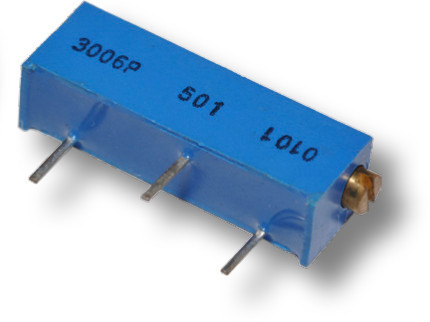 3006P-
Cermet Trimmer
Cermet Trimmer Multi-Turn 22 turns 3-4 ORIZ.REG.
Documentation
Type

Cermet Trimmer

Brand name

Electron

Alternatives

89P
PV23P
43P
RJC097P
T18
CT-20P

Resistance

10Ω-2MΩ

Turn

22

Adjustment

Side

Data sheet

3006.pdf

Variants

3006P-102-LF
Resistance 1KΩ 3006P-202-LF
Resistance 2KΩ 3006P-502-LF
Resistance 5KΩ 3006P-103-LF
Resistance 10KΩ 3006P-503-LF
Resistance 50KΩ

Other related articles

Electron
Cermet Trimmer
BELIEVE SRL has trimmers, potentiometers and rheostats suitable for all customer needs.
BELIEVE SRL attaches great importance to the quality of the components. The long time partnership with suppliers always disposed to technological progress allows us to offer the best products suitable for all applications.
Image
Code
Resistance
Turn
Adjustment
3266W
10Ω-1MΩ
12
Top
3224W
10Ω-2MΩ
11
Top
3006P-
10Ω-2MΩ
22
Side
3296W
10Ω-2MΩ
25
Top
3296X-
10Ω-2MΩ
25
Side
3296Y-
10Ω-2MΩ
25
Top
3362P-
10Ω-2MΩ
1
Top
3362R-
10Ω-2MΩ
1
Top
3362W-
10Ω-2MΩ
1
Top
3362X-
10Ω-2MΩ
1
Side
3386F-
10Ω-2MΩ
1
Top
3386P-
10Ω-2MΩ
1
Top
3386R-
10Ω-2MΩ
1
Top
3386X-
10Ω-2MΩ
1
Side
3269P
10Ω-2MΩ
12
Side
3269W
10Ω-2MΩ
12
Top
3269X
10Ω-2MΩ
12
Side
3314G
3323-

3323 Trimmer Potententiometer

3323 Trimmer Potententiometer
3313J
>100ohm
1